In 1924, the Heinroths reported their first experience of hand-rearing a Common Swift, which was subsequently controlled as an adult bird. The Heinroths fed the chick with fresh pupae of ants and mealworms, which they mixed with little pieces of meat and a bit of "mixed food" (Heinroth & Heinroth 1998). Two more recoveries of a Common Swift which had been reared in captivity were reported (Gebhardt 1958 and Martini 2000); in the first case the chick was fed for a couple of days after its parents started on migration and was recovered two years later as a breeder itself. The latter recovery took place after four days only.
Earlier reports about the feeding of captive Common Swifts are imprecise about the exact diet given (e.g., Weitnauer 1949). Only now is the potential threat of malnutrition being discussed, and the finding is that meat should not be fed to insectivorous birds. After the birds revert to their natural diet, i.e. insects, in most cases their flight feathers (remiges and retrices) drop out, as was demonstrated with birds in captivity. Haupt (2004) stresses that malnutrition may cause heavy damage to the feathers with the result that the bird is unable to fly. She recommends insect pellets as well as crickets. The leaflet "Was tun mit jungen Mauerseglern" (What to do with young Common Swifts) produced by the Swiss ornithological station in Sempach, recommends a diet exclusively of crickets.
In 2005, a Common Swift was controlled while it was prospecting for nesting sites. It was caught in Kronberg/Taunus in Germany. Its ring number was 7824586 from the German ornithological station Helgoland; the same number of a young Swift which I raised by hand, and which was released on 12.07.2004.
I fed the following items five to eight times daily, the number of ingredients varying with the age of the chick. Some brown and white drones (male Apis mellifera), some crickets (Acheta domestica), a lot of dried insect pellets mixed with the liquid of white drones, some pinkies (larvae of Lucillia ceasar), some self-bred black flies (Musca domestica) one wax moth larvae (Galleria mellonella) cut into pieces, one "Beo specials"* soaked with water, and a little bit of calcium.
I fed about 60 young Swifts with this diet, and the recovery of this individual one year later proves that the diet is acceptable because the young bird was in a good condition and it was able to fly for nine months without interruption.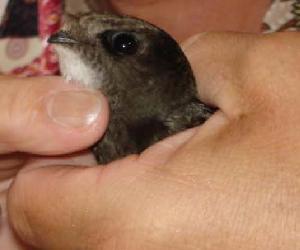 Fosterling "Picasso", Photo: G. Kaiser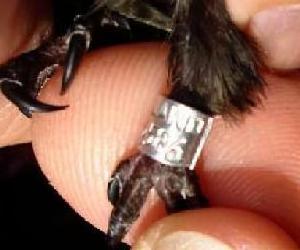 Recovery 2005, ring number 7824586 of the ornithological station Helgoland, Photo: G. Kaiser
* "Beo specials" (Beo spezial, Vitakraft Co.); ingredients as specified by the company: cereals, vegetables, vegetable protein extracts, meat and animal derivatives, oil and fats, minerals. Guaranteed analysis: 26% protein; 7,0% oil; 3,0 % fibre; 7,0 % ash; 10,0 % moisture; 47,0 % carbohydrate; 1,2 % calcium; 0,8 % phosphorus. Additivs/kg :12000 i.U. vitamin A, 2000 i.U. vitamin D3, 50 mg vitamin E, 10 mg copper.
References
Gebhardt, Erwin (1958): Fütterung ausgeflogener Mauersegler? Der Falke 05: 31
Haupt, Christiane (2004): Tierärztliche Hilfe für Mauersegler. APUSlife 3034 (http://www.commonswift.org/Tipps-fuer-Tieraerzte.html)
Heinroth, Oskar & Heinroth, Magdalena (1998): Die Segler (Cypselidae). APUSlife 0242 (http://www.commonswift.org/0242heinroth.html)
Holzgang, Otto & Trösch, Barbara (2002): Was tun mit einem jungen Mauersegler? Merkblätter für die Vogelschutzpraxis. Ed. Schweizer Vogelschutz SVS & Schweizerische Vogelwarte Sempach (http://www.commonswift.org/pdf_docs/SVS.pdf)
Martini, Erlend (2000): Wiederfunde von beringten Pfleglingen. Journal 2000, p. 28-29. Deutsche Gesellschaft für Mauersegler e.V. Frankfurt am Main
Weitnauer, Emil (1949): Trauriges Spyrenjahr 1948. Der Ornithologische Beobachter 46: 80-85